Viva Leisure opens seven new locations and rebrands Plus Fitness with edgy new look and club design
20 April 2022
---
Viva Leisure Limited (ASX:VVA) (Viva Leisure), a leading, technology-focused Australian health club owner, continues to roll out its expansion strategy by opening seven new locations and rebranding Plus Fitness with an edgy new look and club design.
The seven new locations have predominantly opened in Victoria and will take the Group's corporate footprint to 145 locations nationwide, excluding the franchise network of ~200 locations.
In addition, Viva Leisure has commenced revitalising its Plus Fitness brand and that will see its ~200 clubs receive an extensive makeover including industry-leading equipment, a new logo and colour scheme to elevate the brand's service offerings to members and prospects alike.
The new Plus Fitness branding will pay homage to its heritage, with a new vibrant blue hero colour to headline the brand look and feel. The electric blue and associated colour palette will be a major differentiator for Plus Fitness to stand out in the congested 24/7 gym market.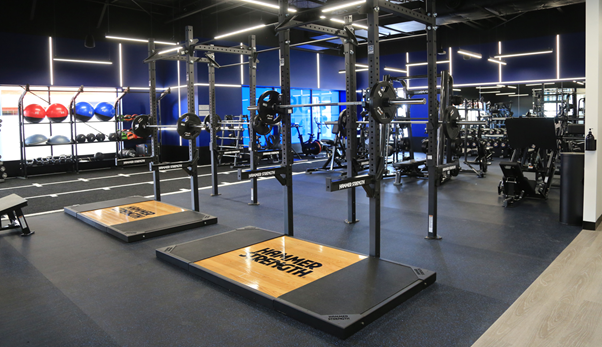 New Plus Fitness fit out
Viva Leisure CEO and Managing Director, Harry Konstantinou said "It's an exciting time to be part of the Viva Leisure journey as Australians more than ever, place increased focus on their health and wellbeing. Opening seven locations in a short period of time is a testament to each of our brands' unique offerings, underpinned by our industry-leading tech stack that provides our members with the flexibility to workout however and wherever they choose.
"It is an equally exciting time for Plus Fitness, with the brand approaching 200 clubs in Australia and entering its next stage of growth, we will elevate the brand into a new era. The new vibrant branding and state of the art club fit outs will ensure we come out more competitive and stronger than ever. We are excited for our Franchisees to come on this journey with us, and we can't wait to showcase the new clubs to our members".
Viva Leisure's recently opened locations include:
Plus Fitness Tuggeranong (ACT)
Hiit Republic Coburg (VIC)
Club Lime Coburg (VIC)
Club Lime Nundah (QLD)
Hiit Republic Ballarat (VIC)
Club Lime Ballarat (VIC) and;
GroundUp Yarralumla (ACT)
ENDS
For further information, please contact:
Investor Enquiries: Media Enquiries:
Ronn Bechler Tristan Everett
Market Eye Market Eye
E: [email protected] E: [email protected]
P: +61 400 009 774 P: +61 403 789 096