Viva Leisure achieves 100+ Club and Membership Milestone
5 February 2021
---
Club and Membership Milestone
Viva Leisure Limited ("Viva Leisure" or "the Company"), a leading technology-focused Australian health club owner, is pleased to announce a significant Club and Membership milestone.
With the acquisition of Pinnacle Health Clubs now complete, Viva Leisure advises it has 101 operating company owned locations. In addition, our flagship Pyrmont NSW location is scheduled to open on Monday 8 February 2021.
In addition, over the previous three months, membership at company owned locations has grown 15% to over 115,000 members.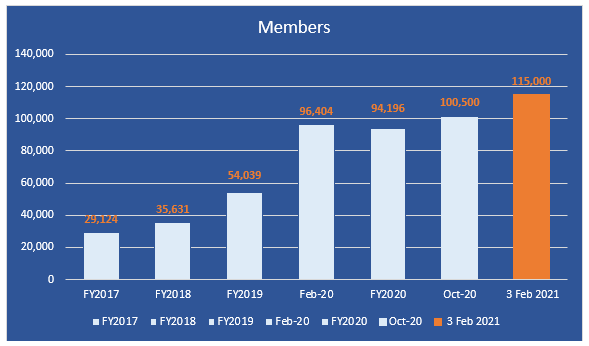 The Plus Fitness franchised network also continues to grow with membership now at approximately 178,500 and opened franchised locations at 198.
A further detailed update on locations and membership will be provided as part of the Half Year 2021 results release.

ENDS
For further information, please contact:
Harry Konstantinou, CEO and Managing Director, +61 2 6163 8011
About Viva Leisure:
Founded in 2004, Viva Leisure operates health clubs (gymnasiums) within the health and leisure industry. Viva Leisure's mission is to connect health and fitness to as many people as possible and aims to provide its members with affordable, accessible, and awesome facilities.
Viva Leisure offers customers several different membership options and a range of different types of facilities from big-box fitness facilities to boutique fitness facilities. The Company currently operates 101 health clubs within the Australian Capital Territory, New South Wales, Victoria, and Queensland, together with the master franchise for the Plus Fitness group of approximately 200 clubs.